Covid Time Capsule
Time Capsule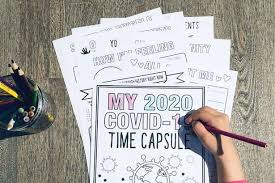 There are some simple amazing sheets in here for you all to work through. With some fabulous ideas, and concepts for the kids to think about and then reflect on at a later date.
There are 11 sheets within the workbook:
A moment of history – record some of the details occurring now,
About me page,
How I'm feeling,
Something about your community,
What are you doing to stay busy at home,
Record your handprints,
Special occasions while in Lockdown,
A letter to yourself,
Interview your parents, and finally
A letter FROM your parents.
There are so many different ways that this will benefit your children:
Helping them to think and articulate how they are feeling at the moment,
Getting them to understand how important this is – that we really are living through history, and actually helping them to record the event,
Getting them to think more positively about their time indoors, and
Chatting to you about how you feel, as parents, as well as being about to write to each other about what it happening.
The worksheets also give children, and parents the chance to reflect on the wider community as well – and how they are being affected. In many cases, such as in #clapforcarers in the UK, there have been some wonderful and uplifting stories about how community had changed for the better.
Download/Print your work sheets.