PE Activities
Physical exercise has always been a main part of everyday school life and this is still the case if you are learning from home. We are encouraging all of our children to take at least 30 minutes of exercise every day.
Here are some ways you can do it!
You can use some of the activity ideas from The Deanes School Sports Partnership in the document below.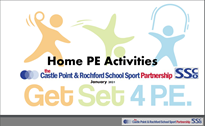 P.E. with Joe Wicks - https://www.youtube.com/channel/UCAxW1XT0iEJo0TYlRfn6rYQ
Cosmic Yoga - https://www.youtube.com/user/CosmicKidsYoga
Jump start Jonny - https://www.youtube.com/c/JumpStartJonny/featured
Stay active and enjoy trying these ideas to keep fit and healthy at home.