Purple Mash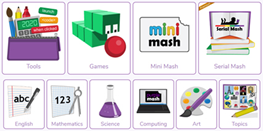 Purple Mash is a cloud-based platform for primary-aged children. It contains a wide range of age-appropriate, creative software tools and allows us to use a range of resources and themed lesson activities, which can be set for pupils to do at home. Teachers can also give feedback on their work, and all the work is stored online, within Purple Mash.
We aim to be flexible in our approach and understand the wide range of circumstances that families continue to encounter. We do set daily deadlines for work showing on Purple Mash to ensure children are not overwhelmed by the amount of work they see when logging on. We strongly recommend to our families that daily opportunities are built into each day to allow pupils to access the tasks set. The learning opportunities provided during any period of closure will be part of our current planning and should not be considered by parents as optional.
Children will need their own personal log in details to access Purple mash. If your child does not have their log in details please email the year group email and they will be resent to you as soon as possible.