Recipes
Easy Chocolate Brownies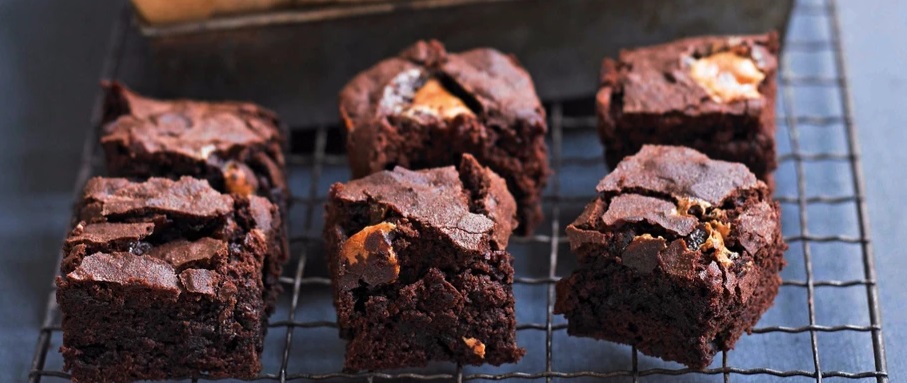 If you ever wondered how to make best chocolate brownies and what ingredients you going to need to achieve this perfect chewy and gooey result we all love. We have a great recipe for you.
This brownie recipe uses a square tin, but you can use an oblong or even round cake tin provided it is roughly the same size – just keep an eye on the brownies, you may need slightly less or more time than the recipe states.
We have provided some great ideas to make variations on the classic chocolate brownie, too, so you can get creative with your baking.
Ingredients
butter 100g, chopped
dark chocolate 200g, chopped
eggs 4
golden caster sugar 250g
plain flour 100g
baking powder 1 tsp
cocoa 30g
BROWNIE VARIATIONS
white or milk chocolate chunks 100g, chopped
hazelnuts 100g, toasted, roughly chopped
pecans 100g, toasted, roughly chopped
baby marshmallows 2 handfuls
Method
Heat the oven to 180C/fan 160C/gas 4.
Line a 22cm square brownie tin with baking parchment. Melt the butter and chocolate together in a microwave or in a bowl set over a pan of simmering water. Cool to room temperature.
Whisk the eggs and sugar together until the mixture is light and fluffy.
Fold the chocolate mixture into the egg mixture and sift on the flour, baking powder and cocoa.
Fold this in to give a fudgy batter.
(To ramp it up, add 100g chopped white or milk chocolate chunks OR 100g toasted, roughly chopped hazelnuts or pecans OR 2 handfuls of baby marshmallows.)
Bake for 25-30 minutes or until the top is cracked but the middle just set. Cool completely, then lift out of the tin and cut.
Have fun and before you eat them all take a photo and send it to your year group email address so that we can post your hard work into our Picture Gallery.